Three Things to Know About The COVID-19 Vaccine
January 18, 2021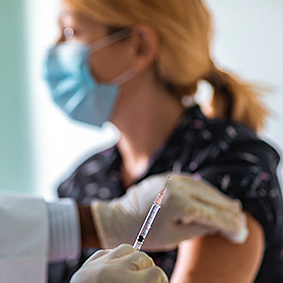 A COVID-19 vaccination will become one of the safest ways people may be able to return to what they remember as normal. Learn how your UniCare plan will cover the vaccine and your vaccination, how health authorities are ensuring vaccine safety, and how vaccine availability is coming along.
UniCare members will receive the COVID-19 vaccination at no cost.
UniCare members won't have out-of-pocket costs for the vaccine during this national public health emergency. This applies to all members, regardless of the type of health plan they have, or which doctor or healthcare professional they choose to visit for COVID-19 vaccination.

The FDA has approved the vaccine.
Researchers have studied vaccine reactions and potential side effects throughout the trials. The FDA and outside experts carefully reviewed all of the clinical trial data when weighing approval of the vaccine. The FDA, CDC, and vaccine manufacturers will continuously monitor vaccine safety and quality.

Distribution will take time.
The CDC has recommendations about how vaccines should be phased in for all populations, but each state will have the ability to make some decisions about the distribution of vaccines based on their own circumstances. Here's a link to the Governor's distribution plan for Massachusetts and here's a link to the plans in other states.
The CDC is working closely with state, tribal, local, and territorial health departments to make sure vaccines are available to communities once large supplies are available. Several vaccines are in development and it is likely more than one will be approved; however, they may get approved at different times. Widespread availability will also depend upon manufacturing capacity.
UniCare is committed to supporting you and your health. Stay up to date on the vaccine and its availability by checking back here on our website.