8 Things to Know About Wearing Cloth Face Coverings and Gloves
June 19, 2020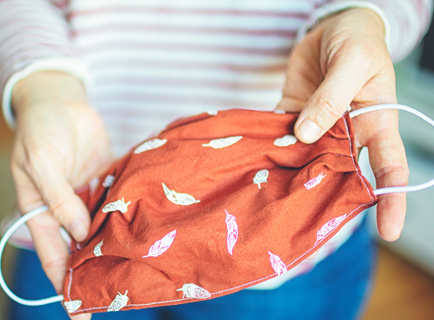 We all want to stay safe and keep loved ones protected as businesses reopen and states lift their stay-at-home orders. The Centers for Disease Control and Prevention (CDC) recommends you continue covering your nose and mouth in public with cloth masks. A new study also supports this recommendation, demonstrating that wearing face coverings could cut the incidence of COVID-19 cases by as much as 80%.*
What else should you know about wearing face coverings and gloves to protect yourself and loved ones? Here are answers to eight important questions.
Why do I still need to wear a cloth face covering?
The CDC recommends wearing a cloth face covering because of how COVID-19 spreads. This precaution has not changed. It helps to protect people around you if you are infected, even if you do not have or show symptoms. The CDC recommends that you do NOT use a face mask meant for a health care worker.
Should my children wear a cloth face covering?
It depends on their age. Children age two and older should wear a face covering. Make sure to check when you put coverings on children that the cover is secure, and that they can still breathe properly. Young children under age two, anyone who has trouble breathing or is not able to remove the cloth face covering without assistance should not wear one, according to the CDC.
Do I still need to practice social distancing even though I am wearing a cloth face covering?
Yes. Protective face coverings are not a replacement for social distancing. You should still stay at least six feet away from other people, clean your hands often and take other preventive measures.
When I am practicing social distancing and staying away from others, do I still need to wear a cloth face covering?
No. Protective face coverings are important when you are close to another person and are not a replacement for social distancing. When you are away from other people, you do not need to wear a face covering.
How do I safely remove my cloth face covering after visiting the grocery store or other public places?
Start by sanitizing your hands. Then untie the mask strings behind your head or stretch the mask ear loops to lift it off your face. Be careful not to touch your eyes, nose and mouth when removing it.
Once you take the mask off, fold the outside corners together. If it is reusable, hand wash your cloth covering or put it in the washing machine to sterilize it. If you do not have time to wash it immediately, place it in a paper bag so it can dry out. This can help prevent contaminating other surfaces. Then wash your hands with soap and water.
When should I wash my cloth face covering?
Cloth face coverings should be washed regularly, depending on the frequency of use. You can put them in the washing machine using hot water, or hand wash for at least 20 seconds with warm to hot water and soap. Then put them in the dryer on low or air dry.
When should I replace my cloth face covering?
You should replace your face covering when it shows signs of wear or has holes or rips.
Should I wear disposable gloves?
The CDC recommends wearing disposable gloves for the general public only when you are caring for someone who is sick, or you are disinfecting frequently touched surfaces in that person's home. After each use, throw gloves away in a lined trash can and do not reuse them. Wash your hands after you have removed gloves in those situations.
At other times, for example, when you are running errands like going to the grocery store, pharmacy or using an ATM, it is not necessary to wear gloves. The best way to protect yourself is to wash your hands as soon as you get home.
Taking care of your health and the health of others is key to getting through this pandemic. Protect yourself and your loved ones by wearing cloth face coverings and social distancing. These preventive measures can help make a difference and help slow the spread of COVID-19 in your community.
*University of California, Berkeley's International Computer Science Institute: Interactive Agent-Based Model Visualization for COVID-19 Masking (accessed May 28, 2020): icsi.berkeley.edu.