Letting health advocates guide your care journey
January 21, 2022
When you need guidance and support for your unique health issues, our Whole Health, Whole You (WHWY) program is a great resource. WHWY health guides are ready to connect you to a team of professionals who can focus on your specific needs. The team includes nurses, social workers, dieticians, respiratory therapists, pharmacists, exercise physiologists, and health coaches.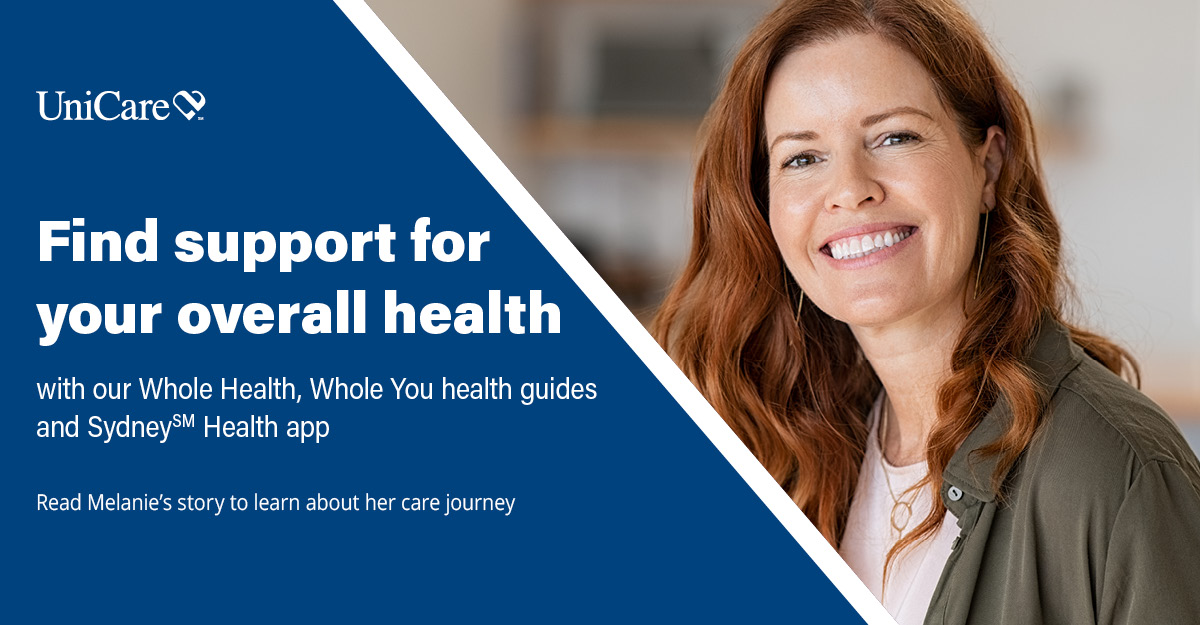 Here's how WHWY recently helped Melanie, a UniCare member with cancer:
Melanie was recently diagnosed with breast cancer, so she called Member Services. She talked to Bill, a WHWY health guide, and told him she was having a hard time making appointments. She was also concerned about the cost of treatment.
Melanie's health guide, Bill, offered his help. Bill walked Melanie through the details of her deductible, copay, and coinsurance. He also offered to make her doctor's appointment. He told Melanie that her WHWY team included a nurse, Joanne, who was going to guide her through the treatment. Bill told her he'd stay on her support team and gave Melanie his direct number for any questions.
Joanne, a nurse, was ready to guide Melanie. Joanne talked to Melanie about her diagnosis and explained to Melanie how she'd support her during the treatment. Joanne also shared online resources available using the Sydney HealthSM app. Joanne made a follow-up appointment with Melanie for four weeks later, after she started her chemotherapy. Joanne also gave her a direct number to call if she had questions.
In their follow-up call, Melanie shared her concerns. Melanie told Joanne that she was losing weight and had nausea from the chemotherapy. Joanne suggested she talk to a WHWY dietician and set up the call.
Mary, a WHWY dietician, called Melanie. Mary talked to Melanie about what foods are best during treatment. They discussed the calories she needed, foods that could improve her appetite, and possible supplements. Mary also shared online resources that showed the nutritional value of foods.
Melanie visited her primary care doctor. Melanie's doctor went over her treatment plan and discussed ways to monitor Melanie's hypertension and arthritis. Melanie said her husband was having a hard time coping with her illness. The doctor told her WHWY could help.
Melanie had another call with Joanne. She told Joanne that she made changes to her diet and took medication for the nausea. As a results, she didn't lose any more weight, handled food much better, and felt stronger. She let Joanne know that she and her doctor were managing her hypertension and arthritis.
Melanie's chemotherapy was scheduled to be finished three months later. In the meantime, she started seeing a change in her husband's mood after he got support from a behavioral health provider through WHWY.
To access your Whole Health, Whole You benefit, use the Sydney Health app or call Member Services at 833-663-4176.